Hi there! Today I mBakinga Easy and Juicy Baked Pork Belly. This recipe was from Lord Bryon's Kitchen.
Experiences from trying this Recipe
This recipe is truly an easy and juicy baked pork belly recipe. The most intensive preparation would be to finely mince the garlic and possibly slice the pork belly into the appropriate 5cm (2 inch) strips. 
The marinade can be done on the morning of the day you intend to cook it. However, giving it a chance to marinade for longer would impart more flavour into the pork strips.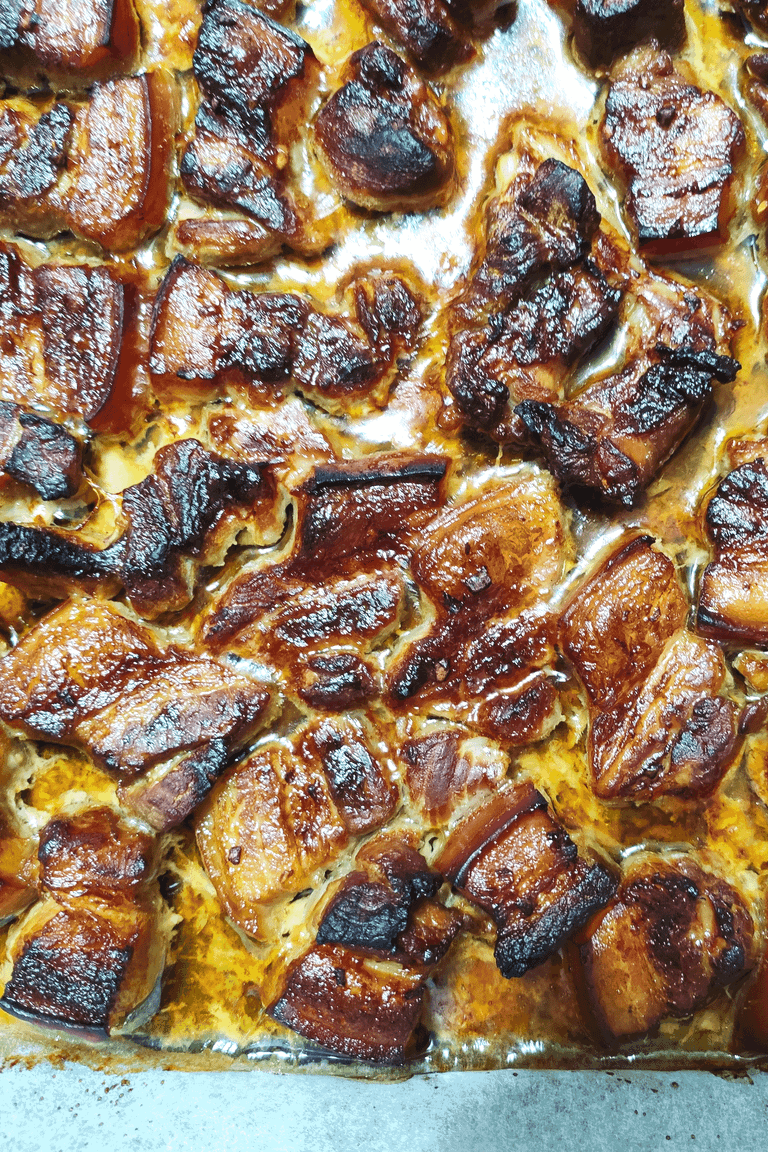 Overall thoughts about this Easy and Juicy Baked Pork Belly recipe
You may choose to leave the skin on for your pork belly when baking them. To prevent the skin from becoming overly chewy, I would recommend to lay the pork belly horizontally such that it is in contact with the parchment paper. This allows the skin to soak in some of the pork fat that comes out during the baking process.
In addition, I would not recommend flipping the the pork slices halfway through the baking process. This would undo any initial browning and crisping that was achieved in the first half of baking. 
Oh and croutons would be a perfect vessel to soak up the flavourful pork juices left on the baking tray.
If you're looking for an easy weeknight dinner this recipe is a sure winner! 
As such, I would rate this Easy and Juicy Baked Pork Belly recipe as follows:
(1 being the poor, and 5 being the best)
If you like what you're reading so far, why not follow me through the links below:
Or if you're feeling generous today and would love to support my blog, why not donate. All proceeds would go towards maintaining the website and covering the costs of any ingredients used.
Easy and Juicy Baked Pork Belly
A simple recipe perfect for a busy weeknight dinner.
Equipment
Baking tray

Parchment paper
Ingredients
1.5

kg

pork belly, sliced into 5-cm strips

2

cloves

garlic, finely minced

60

ml

soy sauce

1/4 cup

60

ml

rice vinegar

1/4 cup

30

g

fine sugar

2 tbsp

2

tsp

molasses

1

tbsp

sesame oil

Pinch

of

ground pepper

Pinch

of

fine salt
Instructions
In a large baking dish, add the garlic cloves, soy sauce, rice vinegar, fine sugar, molasses, sesame oil, ground pepper and fine salt. Whisk well to combine.

Add the pork belly to the marinade and toss to coat. Cover it with plastic wrap and store it in the refrigerator for at least 8 hours or overnight if possible.

Do toss the pork belly around in the marinade once every 2 hours to ensure that it is well coated.

Preheat the oven to 200°C and line a baking tray with parchment paper.

Arrange the pork belly on the prepared baking tray making sure that they are in one single layer.

Bake the pork for 1 hour.
Notes
The original recipe can be found here.
I prefer my pork belly slices to be about 2cm (0.7 inches). This ensures that they would remain juicy while being baked.