This post may contain affiliate links.
I was thoroughly intrigued when I saw her recipe video for this ginger milk pudding. Two simple ingredients were all it takes to make a pudding that can balance a spoon on its surface. No gelatin or agar agar was even required to set it.
Experiences from making this Ginger Milk Pudding
According to a Wikipedia article, the ginger has a protease zingipain that curdles the milk. This allows it obtain a pudding like texture as it sits. 
Heating the milk milk up in a microwave is a quick method that requires little clean up. However, do only heat it in 10 to 20 second increments. Or else, it would warm too quickly and you would need to wait for it to cool down before adding to the ginger juice.
The milk should be about 70°C in order for the enzymes in the ginger juice to work at optimal rate. If it is too hot, the enzymes would be denatured and be unable to curdle the milk.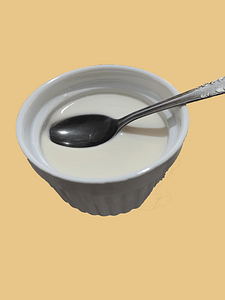 Using nut milks or other non dairy milks would not work here. The proteins found in the milk is essential to set up the pudding for this particular recipe.
Overall, I found this ginger milk pudding recipe easy to execute with satisfying results. 
If you like what you're reading so far, why not follow me through the links below:
Or if you're feeling generous today and would love to support my blog, why not donate. All proceeds would go towards maintaining the website and covering the costs of any ingredients used.
Hot Thai Kitchen's Ginger Milk Pudding
A ginger milk pudding made with just 2 ingredients.
Equipment
Grater

Two 6 ounce ramekins
Ingredients
4

tsp

ginger juice

200

ml

milk

2 cups
Instructions
Start with about 3 inches (7.5cm) of ginger. Grate it with a fine grater to obtain 4 teaspoon of ginger juice. Discard the ginger fibre.

Add 2 teaspoon of ginger juice into each ramekin.

In a microwave safe cup, heat the milk in 20 second increments until it just starts to steam.

Pour the warmed milk into the ramekin. Let it sit undisturbed for 10 minutes.

Once the pudding has set, serve it warm.
Notes
The ginger juice would not be able to curdle a non dairy milk.
As a member of the Shopee Ambassador Programme, I earn from qualifying purchases: 6 ounce ramekins