This post may contain affiliate links.
Pepsi is an unusual ingredient in most recipes. Most people would normally drink it as it is. Also, I was extremely curious to know how it would turn out in a chocolate cake.
Experiences from trying this Recipe
The cake came together very quickly. It was just a matter of mixing the dry ingredients in one bowl and the wet ingredients in a separate bowl. Once done, combine both to form your cake batter to bake off.
I decided to skip a frosting and try a simple syrup using Coca Cola. Hence, I just brought some Coca Cola to a boil and add a cornstarch slurry into it to thicken it slightly.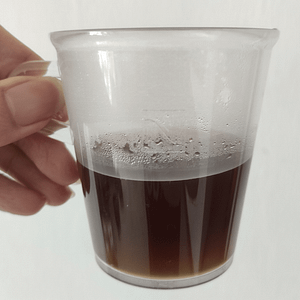 Overall thoughts about the Coca Cola Chocolate Cake
Even though Coca Cola is a drink loaded with tons of sugar, the chocolate cake did not turn out overly sweet. In fact, I shared the cake with some friends and they could not tell Coca Cola was added to it at all.
The Coca Cola simple syrup was not good. The cake was able to soak up the liquid, but it did not provide any additional flavour notes to the cake. 
As such, I would rate the Coca Cola Chocolate Cake recipe as follows:
(1 being the poor, and 5 being the best)
If you like what you're reading so far, why not follow me through the links below:
Or if you're feeling generous today and would love to support my blog, why not donate. All proceeds would go towards maintaining the website and covering the costs of any ingredients used.
Coca Cola Chocolate Cake
A chocolate cake made using Coca Cola.
Ingredients
60

g

salted butter

4 tbsp + extra for greasing

25

g

cocoa powder

4 tbsp

60

ml

vegetable oil

1/4 cup

120

ml

Coca Cola

1/2 cup

60

ml

milk

1/4 cup

1

tbsp

lime juice

1

egg

3/4

tsp

vanilla essence

120

g

plain flour

1 cup

80

g

fine sugar

1/4 cup + 2 tbsp

1/2

tsp

baking soda
Cola soak
120

ml

coca cola

1/2 cup

1/2

tsp

cornstarch
Instructions
Preheat the oven to 180°C. Grease the 8 inch round cake pan with some melted butter.

In a sauce pan over medium heat, melt the salted butter. Then, add the coca powder, vegetable oil and Coca Cola. Bring it up to a boil and let it boil for 20 seconds before turning off the heat to let it cool for about 5 minutes.

In a separate bowl, add the egg, milk, lime juice and vanilla essence and mix well. Add this mixture into the cooled coca cola mixture and combine well.

In a large bowl, whisk the plain flour, fine sugar and baking soda to combine. Pour the wet mixture into the dry mixture and whisk until no lumps of dry ingredients are found.

Transfer the cake batter into the prepared cake pan and bake for 20 to 25 minutes or until a cake tester inserted into the centre of the cake comes out clean.
For Cola Soak
While the cake is baking: In a clean saucepan, add the cornstarch and 1 tablespoon of the coca cola. Whisk well to ensure the cornstarch does not clump and forms a slurry.

Vigorously whisk the remaining coca cola into the saucepan. Then heat the mixture on medium heat until it comes to a boil. Immediately turn the heat down to medium low and let it simmer for 2 minutes until it thickens. The mixture should be whisked at all times.

When the cake has finished baking and has been removed from the oven, poke the cake with with a skewer or chopstick and pour the cola soak over the cake to let it be absorbed into the cake. This would help the cake remain moist while being stored.

The cake can be well covered at room temperature for about 2 days. Otherwise, it can be wrapped tightly and kept in the refrigerator for up to 5 days.
Notes
The original recipe can be found here. I did not want any frosting and decided on using a simple syrup to coat it instead.