This post may contain affiliate links.
Rugelachs looks extremely similar to croissants and I wondered if it would have any similarities. This did not require any lamination of the dough and I was extremely keen to see how a cream cheese pastry would taste.
Experiences from trying this Recipe
When I saw the recipe video for this, I was intrigued by how easy it looked. In a few simple steps, a delicious pastry can be ready to be baked.
In the video above, Melissa made it look so easy to roll her dough out.
However, I found the dough tricky to roll into a perfect circle. I only managed to get mine into an oval shape. Dusting the dough and your rolling pin liberally with flour does help prevent it from sticking. In fact, the cream cheese dough was much softer than other typical butter pastries that I have attempted before.
Overall thoughts about the Rugelachs with Jam and Walnuts
I opted to use a store bought strawberry jam to lightly coat my cream cheese pastry. You may use any fruit jams or other spreads as long as it is smooth and spreadable enough. I would not recommend coating an extremely thick layer of jam onto the dough as it would leak out as they bake. The same goes for the nuts in the dough. Overfilling them would leave it hard to roll up.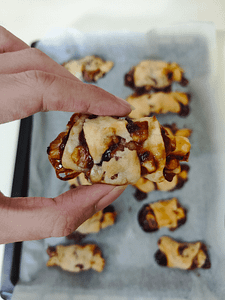 These tasted delicious. The cream cheese pastry was soft and tangy. Against the fruit jam and crunchy walnuts, it was an addictively delicious treat.
As such, I would rate these Rugelachs with Jam and Walnuts as follows:
(1 being the poor, and 5 being the best)
If you like what you're reading so far, why not follow me through the links below:
Or if you're feeling generous today and would love to support my blog, why not donate. All proceeds would go towards maintaining the website and covering the costs of any ingredients used.
Rugelachs
Equipment
Rolling Pin

Electric whisk

Baking tray
Ingredients
Cream Cheese Dough
60

g

cream cheese, softened

1/4 cup

60

g

salted butter, softened

1/2 stick

60

g

plain flour

1/2 cup + extra for dusting
Filling
30

g

strawberry jam

2 tbsp

35

g

walnuts, chopped

1/4 cup

15

ml

Milk

1tbsp, for brushing dough
Instructions
For dough
Ina large bowl, cream the salted butter and cream cheese until blended and smooth, about 2 minutes. Add in the all-purpose flour and mix until it comes together into a dough with no visible spots of flour left.

Wrap the dough in some cling wrap and refrigerate it for at least 2 hours, or overnight.
For filling
When ready to bake off some rugelachs, line a baking tray with some parchment paper. Remove the chilled dough from the refrigerator and let sit on a floured counter for 5 minutes to let it soften slightly. Using a well-floured rolling pin, roll the dough out into a 12-inch (25cm) circle that should be about 6mm (1/4 inch) thick.

Spread a thin coat of strawberry jam onto the dough and top it with the chopped walnuts. Then, slice the dough into 12 equal wedges and roll each wedge starting from the wide end and ending with the narrow end. Place the rolled up rugelachs onto the prepared baking tray 2cm apart from each other and with their point side down. This would ensure they would not unfurl while baking. Transfer the tray to the refrigerator to chill for 30 minutes.

Preheat the oven to 180°C. Brush the chilled rugelachs with milk and transfer the baking tray to the oven to bake for 30 to 35 minutes or until they are golden brown.

Remove the baked rugelachs from the oven and allow them to cool for 10 minutes. The yare best served warm or at room temperature and can be stored in a well-sealed container for about 5 days.