I had some leftover pumpkin puree after making a pumpkin pie from Bon Appetit. Hence, I decided find another recipe to make use of it.
The biscotti originated from Italy and is a twice baked biscuit. This leaves them very dry and suitable for storing for long periods of time in a well sealed container at a cool and dry spot.
Experiences from trying King Arthur's Pumpkin Biscotti Recipe
I like how recipe comes together quickly. The electric mixer makes quick work of the dough and can be ready to be baked before your oven has even finished preheating. So it is a great idea to start the oven up the moment you decide you want to make some biscotti.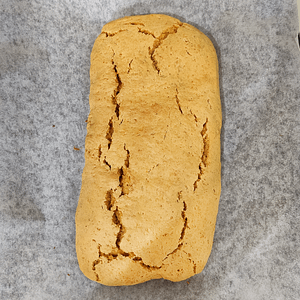 As the biscotti batter has some baking powder in it, it would rise and spread slightly. Hence, you should aim to shape it slightly thinner than what you would intend the final width of your biscotti to be. This was one piece of advice I wish I had known before embarking on shaping mine. The pumpkin biscotti I shaped turned out fatter than intended after its first bake.
Overall thoughts about the Pumpkin Biscottis from King Arthur Baking
These pumpkin biscottis were very tasty. It is best served with some coffee or alternative beverage for dipping it in. The liquid would help soak the biscotti slightly and make it a tad less dry. A perfect tea time snack. 
Since pumpkin puree can be difficult to find in Singapore, I may not be making this recipe anytime soon. Nonetheless, it is a good recipe for when you do have some on hand.
As such, I would rate the Pumpkin Biscotti recipe as follows:
(1 being the poor, and 5 being the best)
If you like what you're reading so far, why not follow me through the links below:
Or if you're feeling generous today and would love to support my blog, why not donate. All proceeds would go towards maintaining the website and covering the costs of any ingredients used.
King Arthur Baking's Pumpkin Biscotti
A twice baked biscuit. A perfect pairing with coffee.
Equipment
Electric mixer

Baking tray

Parchment paper

Bench scrapper (optional)
Ingredients
60

g

salted butter, soft

4 tbsp

100

g

fine sugar

1/2 cup

1

egg

100

g

pumpkin puree

1/2 cup

3/4

tsp

ground cinnamon

1/4

tsp

ground ginger

1/4

tsp

ground nutmeg

1 1/2

tsp

baking powder

240

g

plain flour

2 cups
Instructions
Preheat the oven to 180°C. Line a baking tray with parchment paper.

In a medium bowl, whisk the plain flour, ground cinnamon, ground ginger, ground nutmeg and baking powder together to evenly distribute it. Set aside.

In a large bowl, beat the salted butter and fine sugar using the electric mixer until smooth and creamy, about 1 minute.

Add the egg to the creamed butter mixture and beat on a low speed to incorporate, about 1 minute. Add the pumpkin puree to the butter egg mixture and beat on a low speed for another 1 minute to incorporate it.

Add the dry ingredients to the pumpkin butter mixture and mix on a low speed until well incorporated and no dry spots are seen.

Scoop the dough out onto the lined baking tray and shape it into a log about 25cm by 5 cm. A bench scraper would be extremely helpful in this step.

Bake the dough at 180°C for 25 minutes. Then remove it from the oven to rest for 5 minutes to let it cool down slightly. Reduce the oven temperature to 160°C.

Slice the log crosswise into 1cm thick slices. Lay the biscottis on their sides with the sliced area facing upwards. Return them to the oven to bake for 40 to 45 minutes until they are starting to turn golden brown at the edges.
Notes
The original recipe from King Arthur Baking can be found here.