This post may contain affiliate links.
Hi there! This week I mBakinga easy chewy treacle cookie. This recipe is adapted from Dessert Person's Chewy Molasses Spice Cookies.
I have always wanted to make some gingerbread for the festive season. Even though I did not have a gingerbread man cookie cutter, that did not stop me. This cookie is packed full of the familiar holiday spices of ground ginger, cinnamon and nutmeg so I decided to try it out.
Experiences from trying this Recipe
In the original recipe, Claire advised to under bake the cookie in order to get it soft and chewy. This is a valuable piece of advice. The cookie would continue to set and firm up as it cools after baking. Hence, they would only get firmer as time passes.
I swapped out the unsulfured molasses in the original recipe for the Lyle's black treacle in an equal amount. I can report that there would not be any bitterness overpowering the cookie from this swap. 
Overall thoughts about these Easy Chewy Treacle Cookies
The flavours of the spices comes through in these cookies. Hence, if you are not a fan of the ginger taste, you may choose to cut back on it. Also, rolling the cookie balls in sugar does provide it with a more sparkly finish without making it overly sweet.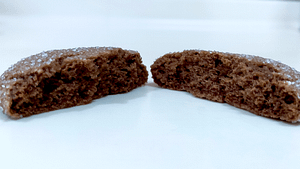 Claire's cookie recipe is easy to put together and is worth making. It can be scaled down as I have done. A single batch of cookies that uses 1 egg would yield 20 to 21 cookies.
As such, I would rate these easy chewy treacle cookies recipe as follows:
(1 being the poor, and 5 being the best)
If you like what you're reading so far, why not follow me through the links below:
Or if you're feeling generous today and would love to support my blog, why not donate. All proceeds would go towards maintaining the website and covering the costs of any ingredients used.
Easy Chewy Treacle Cookie
A recipe from Dessert Person by Claire.
Equipment
Hand whisk

Baking tray

Weighing scale (optional)
Ingredients
225

g

plain flour

1 3/4 cup

1 1/2

tsp

baking soda

1 1/4

tsp

ground ginger

1/4

tsp

ground pepper

1/4

tsp

ground nutmeg

1/4

tsp

ground cinnamon

85

g

salted butter, melted and cooled

6 tbsp

150

g

fine sugar

3/4 cup

80

g

Lyle's black treacle

1/4 cup

1

egg

1

tsp

vinegar

1

tsp

vanilla essence

60

g

fine sugar, for coating the cookies

optional
Instructions
In a large bowl combine the plain flour, baking soda, ground ginger, ground pepper, ground nutmeg and ground cinnamon and whisk to combine it well. Set aside for now.

In a separate bowl, whisk the melted butter and fine sugar until well combined, about 2 minutes.

Whisk the egg, Lyle's Black treacle, vinegar and vanilla essence into the butter sugar mixture until well combined and a homogenous mixture is reached, about 2 minutes.

Add the dry ingredients into the butter mixture and mix until there are no more traces of dry flour left. The dough would feel sticky and tacky at this stage. Cover the cookie dough in some plastic wrap and leave to rest in the refrigerator for at least 1 hour or up to 2 days.

When ready to have some cookies, preheat the oven to 180°C. Line a baking tray with parchment paper.

Take out the chilled cookie dough from and portion them into 28g (about 2 tablespoons) and roll them between your palms into round balls.

(Optional) You may roll the cookie balls in some fine sugar before transferring them onto the baking tray.

Keep the cookies balls about 4cm apart as they would spread as they bake.

Store any leftover cookie dough in the refrigerator to chill.

Bake the cookie dough balls for about 12 to 14 minutes in the preheated oven. The cookies would be soft in the middle and mostly set at the sides. Leave them to cool on a wire rack before storing them in an airtight container at room temperature for up to 7 days.
Notes
As a member of the Amazon Affiliate Programme, I earn from qualifying purchases: 
Dessert Person