This post may contain affiliate links.
Oranges are quite easy to get around here all year round. Hence, I wanted to try out this recipe to make some easy and tasty breakfast muffins that's easily available all year round.
I made some adjustments to Beth's recipe as I did not have some of the ingredients that were called for in the original recipe. 
Experiences from trying this Recipe
I wanted to make a portion of 6 regular muffins, hence I halved the total amount of ingredients used. Also, I made a number of substitutions and tweaks to the original recipe based on the ingredients that I had:
Instead of brown sugar, I used an equal amount of white sugar and a teaspoon of treacle.
I omitted the maple syrup and added slightly more fine sugar.
The cloves was  omitted.
I used an equal amount of walnuts instead of pecans.
1 tablespoon worth of pumpkin seeds were mixed into the batter too.
I place a round of orange at the base of each ramekin before adding the batter onto it. 
I opted for freshly squeezed orange juice which worked out to half an orange to extract 60ml of juice. However, using store bought juice would work perfectly fine. It may be slightly sweeter because of the added sugars in commercial juices.
Overall thoughts about the Orange Muffin with Walnuts
Because of the orange round placed at the bottom of the ramekin, these muffins could also turn out as an upside down orange cake as long as the domed top is sliced off. The orange slice also provides an extra boost of the orange flavour to the overall muffin.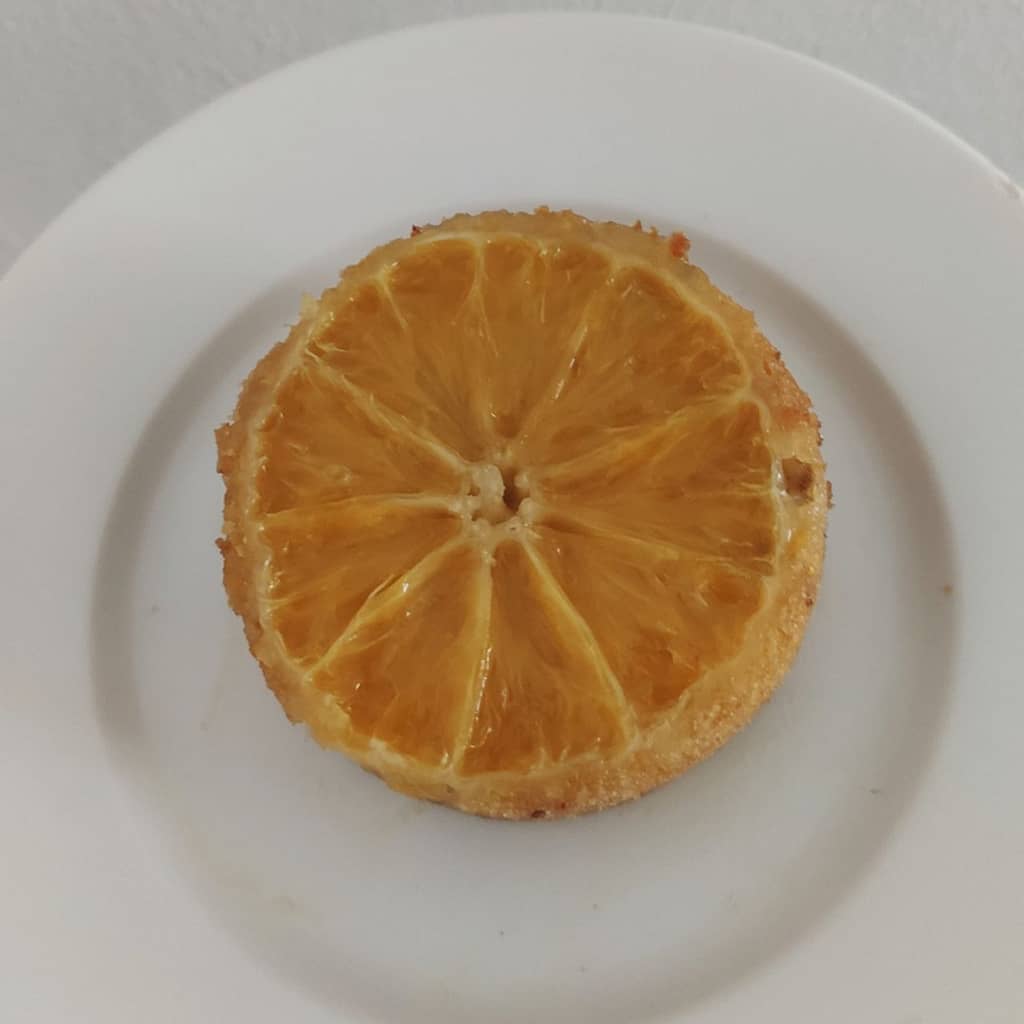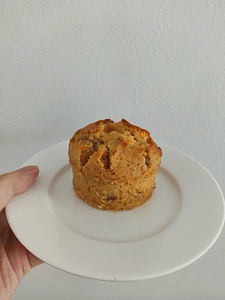 The hardest part of the recipe would have to be juicing the oranges for that freshly squeezed orange juice. Everything else came together very quickly. I would make this recipe again in the future.
As such, I would rate these Orange Muffins with Walnuts recipe as follows:
(1 being the poor, and 5 being the best)
If you like what you're reading so far, why not follow me through the links below:
Or if you're feeling generous today and would love to support my blog, why not donate. All proceeds would go towards maintaining the website and covering the costs of any ingredients used.
Orange Muffin with Walnuts
A delicious breakfast treat that is simple to put together. Adapted from Beth's recipe.
Ingredients
1

egg

65

g

fine sugar

1/4 cup + 1 tbsp + extra for sprinkling

1

tsp

treacle

90

g

melted salted butter, cooled

6 tbsp + extra for greasing

30

ml

vegetable oil

2 tbsp

1

tbsp

orange zest

1

medium

orange

sliced into 1cm thick rounds

60

ml

orange juice

1/4 cup

60

ml

water

1/4 cup

120

g

plain flour

1 cup

1

tsp

baking powder

40

g

walnuts

1/3 cup

15

g

pumpkin seeds

1 tbsp
Instructions
Preheat the oven to 200°C. Grease the ramekins with some melted butter. Sprinkle 1/4 tsp of fine sugar over the base of the ramekin. Then, place 1 orange round in the bottom of the ramekin.

In a large bowl add the egg, fine sugar, treacle, melted butter, vegetable oil, orange zest, orange juice and water. Mix until well combined.

In a separate large bowl, mix the plain flour, baking powder, walnuts and pumpkin seeds together.

Add the wet ingredients into the dry ingredients and mix until just combined and no lumps of flour are seen. Divide the batter equally into the prepared ramekins.

Bake the muffins for 25 minutes or until a toothpick inserted into the centre of the muffin comes out clean. Let the muffins cool slightly before digging into them!
Notes
The recipe above was adapted from Beth's Orange crumb muffin recipe.
You may swap the walnuts for other types of nuts. Alternatively, you may omit them  if you wish.
As a member of the Shopee Ambassador Programme, I earn from qualifying purchases: 6 ounce ramekins