This post may contain affiliate links.
Hi there! Today I'm sharing what I did with a failed macaron batter.
I had initially set out to make some French macarons. They are notorious for being tricky to make perfectly. A tiny mistake could lead to the entire recipe failing. Since this would be my first attempt at it, I watched multiple recipe videos and read numerous articles online for reference before beginning.
Experiences from trying to rescue some Failed Macarons
Unfortunately, my batter failed because I had overbeaten my egg whites by accident. The moment I noticed some liquid separate from the egg whites, I immediately stopped my mixer as I knew I had went too far. 
Not wanting to start all over or waste the egg whites, I decided to continue with the original recipe first to see how they turn out. Needless to say, they did not turn out anything like macarons. The excess moisture from the overbeaten eggs caused the batter to be too liquidy even after folding in the dry ingredients.
Since the failed macarons seemed slightly biscuity still, I decided to use it as a topping of an apple crisp.
Overall thoughts about rescuing Failed Macarons
I found the macaron cookie extremely sweet. Hence, I decided to just use some chopped apples as the filling. The natural sweetness from the apples would be enough for me and there was no need to add any extra sugar to the filling.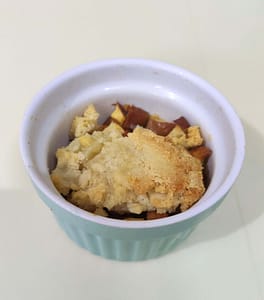 Overall, they came out better than expected. The macaron topping was slightly crunchy and provided a good textural contrast to the soft apple filling.
As such, I would rate the Failed Macaron Apple Crisp as follows:
(1 being the poor, and 5 being the best)
If you like what you're reading so far, why not follow me through the links below:
Or if you're feeling generous today and would love to support my blog, why not donate. All proceeds would go towards maintaining the website and covering the costs of any ingredients used.
Failed Macarons Apple Crisp
Ingredients
250

g

macaron shells

5

medium

apples

600g

1

tbsp

orange zest

optional

1

tbsp

butter

for greasing ramekin
Instructions
Preheat the oven to 180°C. Grease the ramekins well with some butter.

Roughly chop the apples into chunks. Mix in the orange zest if using. Divide them equally into the prepared ramekins.

Place the ramekins into the preheated oven and bake for 35 minutes.

Remove the ramekins from the oven and add the butter into each ramekin. Top them with the failed macaron shells now. You may break the macaron shells into clumps if you wish. Return them to the oven to continue baking for 25 minutes more or until golden brown.

Remove the apple crisps from the oven and let them cool slightly before digging in.
Notes
As a member of the Shopee Ambassador Programme, I earn from qualifying purchases.
6 ounce ramekins
As a member of the Shopee