Egg tarts are one of my most favourite desserts of all time. Also, I actually prefer egg tarts with a firmer pastry shell to those with a flaky pastry. I find that the flaky pastry often crumbles too easily or drops to many flakes that there's not much buttery goodness left to eat. Tasty's recipe had the type of firm crust I was looking for.
Experiences from trying Tasty's Egg Tart Recipe
I did not have the egg tart moulds that give it their signature shape. However, I made do  a cupcake pan.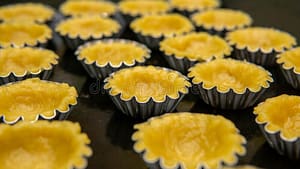 The tart shells should only come up to between half to 3/4 of the way up each cupcake hole. This way, the egg filling made would be just the right amount to fill them almost to the brim. Also, you may choose to strain the egg mixture as an added precaution to get a silky smooth filling if you have any worries about scrambling the egg yolks while whisking them.
Overall thoughts about Tasty's Egg Tart recipe
I liked this recipe as it was rather easy to put together. Why not make a meringue using the egg whites from the eggs used in this recipe? Maybe it could go well with these egg tarts as they would provide a crunchy textural contrast against the smooth egg custard filling. I wouldn't mind making this again if I happen to have some extra egg yolks lying around in the future.
As such, I would rate Tasty's Egg Tart recipe as follows:
(1 being the poor, and 5 being the best)
If you like what you're reading so far, why not follow me through the links below:
Or if you're feeling generous today and would love to support my blog, why not donate. All proceeds would go towards maintaining the website and covering the costs of any ingredients used.
Tasty's Hong Kong Style Egg Tarts
I made these egg tarts in a regular 12 hole cupcake pan.
Ingredients
For egg filling
135

ml

water

1/2 cup + 1 tbsp

30

g

fine sugar

2 tbsp

Pinch

of

fine salt

45

ml

milk

3 tbsp

3

egg yolks

reserve 1.5 tbsp for the tart shell

1/2

tsp

vanilla essence
For tart shell
135

g

plain flour

1 cup + 1 tbsp

15

g

cornflour

2 tbsp

30

g

fine sugar

2 tbsp

Pinch

of

fine salt

85

g

butter, room temperature

6 tbsp + extra for greasing

1 .5

tbsp

egg
Instructions
For egg filling
Add the fine sugar, fine salt and water to a saucepan over medium heat and cook until the sugar has dissolved. Let it cool slightly

Whisk the 3 egg yolks in a small bowl. Measure out 1.5 tbsp of the egg yolk for the tart shell and set aside.

Add the milk, the remainder of the 3 egg yolks and vanilla essence to the sugar solution. Whisk to combine well.

Chill the egg filling for until cool, about 30 minutes.
For tart shell
In a large bowl, mix together the plain flour, cornflour, fine sugar and fine salt.

Rub the soft butter into the flour mixture with your hands.

Add the reserved 1.5 tablespoons of beaten yolk to the flour mixture. Bring together until smooth. If the dough is too sticky, coating your hands with flour will help. If the dough is too dry, add a light sprinkle of water over the dry parts (about 1/2 tsp) to moisten it. It is better to have a pastry that is slightly more wet than one that is too dry. Cover the tart shell with plastic wrap and then refrigerate for 30 minutes, or until the dough is firm.
For assembling
Preheat the oven to 200°C and grease your cupcake pan with butter.

Divide the pastry into 9 portions and put each portion into a cupcake hole. Use your finger to press out the pastry into a thin layer lining the cupcake hole as evenly as possible and avoid a thick bottom. The pastry may only come up to 1/2 or 3/4 of the cupcake hole.

Pour in the cool egg filling into the tart shells until about 85% full. Ensure that it does not overflow out of the tart shell.

Bake for 15 to 20 minutes until the surface becomes golden brown and a the egg filling has firmed up. Cool down for several minutes and then take the egg tarts out of the pan. Serve while still warm.
Notes
The original recipe can be found here.