Hi there! Today I mBakinga Gougere by Thomas Joseph.
A gougère is a French cuisine. It is a baked savory choux pastry made of choux dough mixed with cheese. It could also be called a cheese puff.
Thomas Joseph is the host of the series Kitchen Conundrums that is on the Everyday Food Youtube channel. In it, he shares many tips and tricks in making dishes that viewers may have trouble making. I choose the gougeres since I had some parmesan cheese on hand.
Experiences from trying this Gougere Recipe
I doubled the recipe and made it all by hand. I didn't take out my hand mixer for this as I was not in the mood to wash it. The choux pastry came together rather quickly. Many videos I have watched shared that the best time to take the dough off from the heat from the stove is when it pulls away easily from the sides of the pan while stirring it. Also, there should be a thin film forming at the base of the pan. However, for a novice cook, I would recommend cooking it slightly longer for maybe 30 seconds if you see these signs even though your dough still looks extremely wet. It would be much easier to remedy a slightly dry choux dough than fixing a dough that is too wet.
When it comes to using an egg wash, I do not like cracking a fresh egg just for it. Most of the time, a tablespoon of a whisked egg would be able to coat most surfaces generously. Hence, I whisked my 4th (and last) egg in a separate bowl before beginning to add part of it to the choux batter. 
The consistency of the gougere batter is key to making it perfect. Mine did not hold a clearly defined V shape when I held my wooden spoon up although it was very stringy. However, I made sure that the dough's consistency had it fall off the spoon after counting 3 seconds. This counting down method is my favourite and it does the trick most of the time. 
Overall thoughts about the Gougeres by Thomas Joseph
Gougeres and other choux pastries commonly require you to bake it first at a high temperature to form a crisp outer shell initially. The remainder of the time would be spent baking at a lower temperature to fully cook its interior. My favourite trick to ensure its best chance of not deflating would be to leave the oven door closed for 10 additional minutes after the timer has gone off with the oven is turned off. I find that this way, the gougeres have ample time to cool down slowly and not suffer any temperature shocks.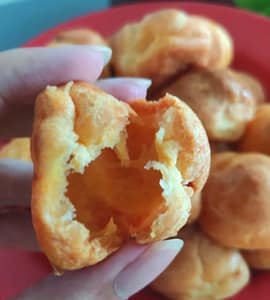 I did not stuff my gougeres with any filling as I wanted to enjoy the full flavours of the cheese choux pastry. And I am glad to say that it did not disappoint. It was light for its size and provided a salty kick from the parmesan cheese. It is the great start of a meal as an appetiser since it leaves you craving for more. In fact, I popped a few in one sitting since they were so delicious. This recipe is a keeper for sure!
As such, I would rate Thomas Joseph's Gougere recipe as follows:
(1 being the poor, and 5 being the best)
If you like what you're reading so far, why not follow me through the links below:
Or if you're feeling generous today and would love to support my blog, why not donate. All proceeds would go towards maintaining the website and covering the costs of any ingredients used.
Gougeres by Thomas Joseph
These goueres have a lovely salty cheesy kick to it. The perfect appetizer for your meal.
Equipment
Baking tray

Piping bag with round nozzle (optional)

Pastry brush (optional)
Ingredients
240

ml

water

1 cup

120

g

salted butter

1 stick

120

g

plain flour

1 cup

1

tsp

fine sugar

4

eggs

45

g

finely grated parmesan

1

egg yolk

for egg wash
Instructions
Preheat the oven to 200°C. Line a baking tray with parchment paper.

In a large saucepan, heat the water, butter, fine sugar and fine salt until the butter has melted and the mixture has come to a boil.

Add the plain flour to the boiling butter mixture and stir vigourously over a low heat and cook, until the mixture pulls away from side of pan and forms a film on bottom, about 4 minutes

Let the dough cool for about 5 minutes. You may speed this up by transferring the hot dough into a cooler bowl.

Add the eggs one at a time, beating well after each addition. Before adding the 4th egg, crack it into another bowl and whisk it. Add half of the whisked egg and stir the batter well. The batter should be shiny and form a string when pulled up with a finger. If not, you may add the remainder of the whisked egg. Stir in the parmesan.

Transfer the batter to a pastry bag fitted with a 1/2-inch plain round tip. Pipe about 30 mounds (2.5cm/ 1 inch in diameter) 2.5cm (1 inch) apart onto parchment-lined baking sheets. Brush with egg yolk.

Bake the gougeres at 200°C for 10 minutes. Then reduce the oven temperature to 180°C and continue baking for an additional 20 to 25 minutes or until puffed and lightly golden. Do not remove the gougeres immediately when done baking. Instead, leave them in the now turned off oven to cool slightly for an additional 10 minutes. Do not open the oven door throughout the entire process.
Notes
The original recipe can be found here.
The best way to test if the gougeres are done is by opening one. There should be a large air pocket in it and should not taste eggy. If not, you may bake it for an additional 10 minutes at 180°C.