Hi there! Today I mBakinga some Green Tea Traditional Baked Mooncakes.
Mid autumn festival falls on 1 October 2020. In Singapore, it is usually celebrated by having some mooncakes. A box of 4 mooncakes can easily cost anywhere from 40 SGD and upwards. Moreover, I usually do not end up finishing them because they are quite a rich and decadent dessert. A tiny slice of it is enough for one sitting. Two slices would leave my taste buds feeling surfeit.
Experiences from trying a Green Tea Traditional Baked Mooncake Recipe
I initially tried making a custard filling from scratch for the mooncakes after searching for some existing recipes available on the Internet. However, it did not turn out well. I did not find it particularly tasty. Hence, I decided to use a store bought green tea lotus paste that was available from Phoon Huat and make some green tea traditional baked mooncakes.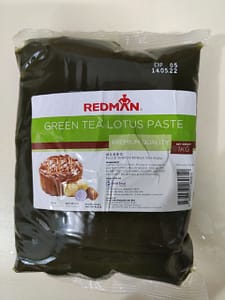 I made a substitute for the lye water using the directions from this website. It suggested dissolving 1/2 teaspoon (3 grams) of sodium bicarbonate ( baking soda) in 240ml (1 cup) of water bring it to a boil and continue to let it boil for an additional 7 to 8 minutes. 
The pastry dough I used was also based off multiple recipes that were available online. Many variations called for golden syrup in making the dough. And after trying a version using golden syrup and a separate one using honey as a substitute, I personally preferred sticking to using golden syrup. Using honey to substitute the golden syrup brought about a similar texture to the dough. However, the honey lent its flavour to the pastry dough and I could taste it in every bite. You may consider using honey if you are in a pinch or if you don't mind the taste of honey in the pastry.
The pastry skin was difficult to handle as it was extremely sticky. However, I found that having damp hands would make it easier to handle and shape the mooncakes.
Overall thoughts about the Green Tea Traditional Baked mooncakes
The Redman green tea lotus paste for mooncakes from Phoon huat had a very subtle hint of green tea in it. It was not overly sweet. I would probably use it again in the future if I decide to make the green tea mooncakes again. However, I would find a smaller packet as I found 1kg too large. 
The mooncake pastry tasted good. It is crucial to let the dough rest overnight after baking it. When the mooncakes first come out of the oven, the crust may be a tad too firm. It is crucial to let the green tea mooncakes rest overnight. This allows the pastry time to soften. 
All in all, I would rate this particular green tea mooncake as follows:
(1 being the poor, and 5 being the best)
Since I have so much lotus paste remaining, I may make them again closer to the actual Mid Autumn Festival.
If you like what you're reading so far, why not follow me through the links below:
Or if you're feeling generous today and would love to support my blog, why not donate. All proceeds would go towards maintaining the website and covering the costs of any ingredients used.
Green Tea Traditional Baked Mooncake
I used a 50g mooncake mould and usually get 9 mooncakes out of the dough.
Equipment
50g mooncake mould

Baking tray

Weighing Scale
Ingredients
100

g

plain flour

3/4 cup + 2 tsp

60

g

golden syrup

1/4 cup

1/2

tsp

lye water

28

g

vegetable oil

about 2 tbsp

225

g

Redman Green Tea Lotus Paste

egg wash
Instructions
For Pastry Dough
Mix the golden syrup, lye water and vegetable oil together in a bowl.

Sift in the plain flour to the syrup mixture and mix until it just forms a dough. Cover the dough with cling wrap and let it rest for 40 minutes.
Prepare filling
Portion out 25g of the Redman green tea lotus paste and roll it into a ball. Repeat until you have 9 lotus paste balls.
Assembling the mooncakes
Preheat the oven to 180°C. Line a baking tray with baking paper.

Divide the pastry dough into 9 portions, about 25g each and roll each portion into a ball.

Dip your hands into water to make them damp. This will help making forming the mooncakes slightly easier. Flatten one ball of the pastry dough into a flat disc. Place a ball of the green tea lotus paste into the middle of the disc. Wrap and seal the green tea lotus paste ball with the pastry dough. Place the stuffed mooncake ball into the mooncake mould. Firmly press the mould handle, then remove the mooncake from the mould. Transfer the mooncake onto the lined baking tray. Repeat this step to finish the remaining dough and lotus paste.

Bake the mooncakes in the preheated oven for 5 minutes. Then remove them and coat them in an egg wash. Return them to the oven to bake for another 5 minutes until the mooncake turns golden brown.

Remove from the oven and let them cool. Store in an airtight container for at least 12 hours.
Notes
I referred to this website for her mooncake pastry recipe. The ingredients and steps mentioned in it are similar to many others available online.