The Levain Bakery's Chocolate Chip Cookie has been exploding on the Internet for quite some time. It is a bakery in New York City that churns out a huge cookie at 170g  that is packed full of add-ins such as chocolate chips and walnuts. There are gooey puddles of chocolate distributed throughout the cookie and every bite of this enormous cookie is chock full of flavour.
These cookies were extremely popular and many copycat recipes have spawned on the Internet. Today, I decided to try Cupcake Jemma's version since I had most of the ingredients that it called for.
Experiences from trying this NYC Chocolate Chip Cookie Recipe
I had an easy time putting together Jemma's NYC chocolate chip cookie. It can be done with no special equipment. A wooden spoon and some elbow grease is all that is required since the ingredients just needs to be combined together. No creaming of butter and sugar is needed. No vigorous whipping of eggs is required.  
Instead of brown sugar, I used a combination of treacle and fine white sugar. Also, I chopped up some Ghirardelli Chocolate squares of different flavours (60% cacao, sea salt caramel and milk chocolate caramel) instead of straight up chocolate chips.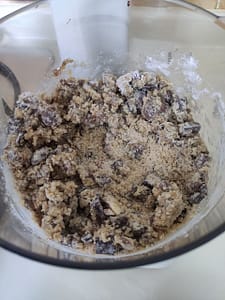 When putting the ingredients together, my dough looked dry and crumbly most of the time as Sally pointed out in the video. However, the egg added at the end would be enough to moisten and bind the batter together. 
Overall thoughts about Cupcake Jemma's NYC Chocolate Chip Cookie Recipe
My attempt at Jemma's NYC Chocolate Chip cookie turn out alright. It was extremely simple to work with the cookie dough the entire time. Portioning it out was simply just pressing together 100g of cookie dough into a rough ball. I ended up with 7 cookies using the quantity of ingredients stated in the recipe below.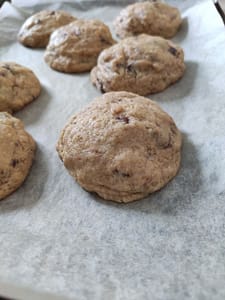 The cookies were tasty. However, mine turned out very soft due to the amount of treacle I added. It was still handle-able although it felt extremely prone to falling apart.  If you prefer your cookies to be more firm and less soft, you may consider cut down slightly on the brown sugar and replace it with fine sugar instead. This would make it slightly more crisp. Also, I found the cookie too sweet for my liking. I would probably cut down on any caramel flavoured chocolate or milk chocolate in the future and stick to only using dark chocolate instead.
As such, I would rate Cupcake Jemma's NYC Chocolate chip cookie recipe as follows:
(1 being the poor, and 5 being the best)
If you like what you're reading so far, why not follow me through the links below:
Or if you're feeling generous today and would love to support my blog, why not donate. All proceeds would go towards maintaining the website and covering the costs of any ingredients used.
Cupcake Jemma's New York Style Chocolate Chip Cookies
The recipe below uses a combination of molasses and fine white sugar to replace the light brown sugar.
Ingredients
95

g

salted butter, cold

6 tbsp

105

g

fine sugar

1/2 cup

1

tsp

treacle

150

g

chocolate, chopped

7/8 cup

210

g

all purpose flour

1 3/4 cup

1

tsp

baking powder

1

egg
Instructions
In a large mixing bowl, add the fine sugar, cold salted butter and combine with a wooden spoon. Add the treacle and combine. It should look like nuggets of butter and sugar at this stage.

Add the chopped chocolate to the butter mixture and mix, about 30 seconds.

Then, add the all purpose flour and baking powder to the chocolate butter situation. Mix it until it is almost combined. It will look dry and crumbly at this stage.

In a small bowl, whisk the egg. Add the whisked egg to the cookie mixture and mix. The cookie dough will start to moisten and come together.

Portion our the cookie dough to 100g each. Then set them into the freezer for at least 1h 30 mins. It can also be stored for up to 3 months in the freezer. When ready to bake the cookies, preheat the oven to 180°C. Line a baking tray with parchment paper and place the baking tray in the preheated oven for at least 5 mins.

Place the cookies onto the heated baking tray and transfer to the oven to bake for 12 - 14 mins until slightly golden brown at the edges. Remove from the oven and let it cool for 20 mins before digging in.
Notes
You may use an equal amount of molasses instead of treacle.
If you would like to make 6 cookies using the original recipe posted by Cupcake Jemma, it would require 70g caster sugar and 70g light brown sugar.