Alexis deBoshnek is a producer on Tasty and has a series called Chef Out of Water where she makes a 3 course meal using different appliances in each episode. Having worked with all sorts of appliances and with numerous recipes at Tasty, she would know a thing or two regarding bread making. 
I have always wanted to have a go at bread making but never found time to do it. I find the kneading process and long resting time a big deterrent and rarely found time to slot those into my schedule. However, I have been spending more time at home during this period of coronavirus times and finally got around to trying this milk bun recipe.
Experiences from trying this Milk Bun Recipe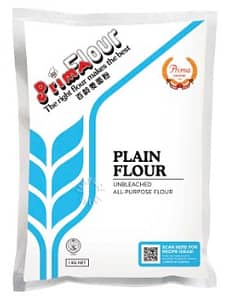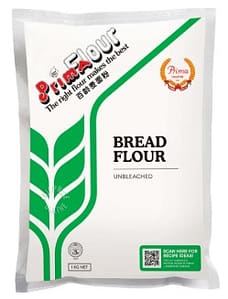 I like Alexis' recipe since it calls for all purpose flour instead of bread flour. Most bread recipes would call normally call for bread flour because of the higher protein content in it. This property helps it produce gluten and give bread dough its stretch and elasticity. However, I did not want to commit to getting bread flour yet since it was not commonly called for in other non-bread making recipes.
This milk bun recipe uses the tangzhong method which involves cooking a small amount of flour with liquids to gelatinise it before incorporating it into the rest of the dough. An article from King Arthur Flour stated 3 benefits of bread made using the tangzhong method:
the dough is supposedly less sticky and easier to knead, 
the bread may rise higher, due to more water creating more internal steam (which makes bread rise in the oven — along with the carbon dioxide given off by the yeast),
the milk buns will be moister, and will stay soft and fresh longer
Based on my personal experience, I would say that the dough would still be very sticky and tricky to knead by hand. I found a bench scraper very helpful in my kneading process of 25 minutes.
When I attempted this milk bun recipe, I laid them out on a sheet pan with roughly a 2cm gap in between each bun and they expanded and puffed up during the resting time. However, they did not rise noticeably higher than other bread recipes I have tried before. If I were to attempt the recipe again soon, I would just place them in a smaller pan and with less space in between each bun to allow them to rise higher instead of wider.
I decided to make a chocolate version of the milk buns. Hence, I used added 1 Ghiradelli Chocolate Caramel Square (15g) before shaping the buns for the second proof. At the end of my first proof, I ended up with 800g of dough. It was divided into 11 portions of almost 80g each. This worked out to 15g of chocolate for each bun. You may experiment by filling the buns with other stuff. However, I would suggest sticking to 15g (1 tablespoon) of filling for each bun of 80g. Otherwise, you may have a hard time enclosing and shaping it. Of course you could also have the milk buns plain if you wish.
Overall thoughts about Alexis deBoschnek's Milk Buns
These milk buns were delicious. I would recommend trying out this recipe if you have always wanted to try making bread but do not have any specialised tools for it. You just need some elbow grease and perseverance to knead the dough for 20 over minutes.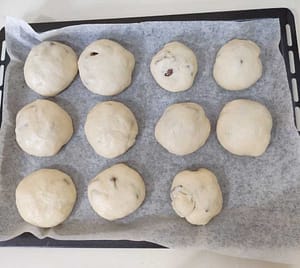 As such, I would rate Alexis deBoschnek's Milk Buns recipe as follows:
(1 being the poor, and 5 being the best)
I would definitely be making more milk buns with this recipe in the future. 
If you like what you're reading so far, why not follow me through the links below:
Or if you're feeling generous today and would love to support my blog, why not donate. All proceeds would go towards maintaining the website and covering the costs of any ingredients used.
Alexis deBoschnek's Milk Buns
I used the quantities stated below to make the milk buns from Alexis deBoschnek.
Equipment
Thermometer

Bench Scraper, optional

Baking tray or cupcake pan
Ingredients
For tangzhong
45

ml

water

3 tbsp

45

ml

milk

3 tbsp

30

g

all purpose flour

2 tbsp
For Dough
360

g

all purpose flour

3 cups + extra for dusting

25

g

fine sugar

1 tbsp + 2 tsp

1

packet

RedMan Instant Dry Yeast 11g - Phoon Huat

240

ml

milk

1 cup

60

g

salted butter

1/2 stick

1

egg

+ extra for egg wash

1

tbsp

oil

10

15g Ghirardelli Milk and Caramel Squares

individually packed
Instructions
For the tangzhong
In a small pot over low heat, add the water, milk, and flour and stir for 30-60 seconds until a paste forms. Remove from the heat and transfer the mixture to a bowl. Cover and refrigerate for 15 minutes to an hour, or until cool.
For the Dough
In a small pot over medium heat, melt the salted butter. Add the milk to the melted butter and measure the temperature of the mixture. If it is between 40.5°C (105°F) to 43.3°C (110°F), add the instant dry yeast to the butter mixture and let it sit. Heat or let the mixture cool as needed to achieve a temperature reading within this range before adding the yeast to the butter mixture. Let the yeast mixture sit for about 5 minutes or until a little foamy.

In a separate large bowl, add the all purpose flour and fine sugar, Mix well to combine.

Add the egg and chilled tangzhong to the butter mixture and whisk to combine until smooth.

Pour the wet mixture into the dry mixture and combine with a fork until it forms a shaggy dough.

Turn the dough out onto a clean work surface and knead for 20 minutes, until the dough becomes a smooth, elastic ball. The dough will start off very sticky and become smoother as you need. If the dough feels too sticky at the beginning, add a tablespoon or two of flour. Transfer the dough to an oil-greased bowl and cover with a kitchen towel. Let the dough rise for one hour in a warm spot, or until doubled in size.

Roughly crush the Ghirardelli Milk and Caramel Squares within its packaging using your hands. You may finely chop the chocolate instead if you wish.

Scoop the dough out of the bowl onto a clean work surface and divide the dough into approximately 80g portions.

Flatten a portion of dough into a circle. Add 15g of the crushed Ghirardelli Milk and Caramel Squares into the centre of the circle. Pinch the edges of the dough together in the middle of the dough, creating a seal, then transfer to a greased baking tray. This can also be done in a greased cupcake pan. Repeat with the remaining dough balls, then cover with a kitchen towel and let rise for 30-45 minutes in a warm place.

While the dough is rising, preheat the oven to 180˚C.

Brush the buns with your egg wash mixture of choice. Bake the buns for 25 minutes, or until golden brown. Let the buns rest in the pan for at least 10 minutes before removing.
Notes
You may use 1 sachet of RedMan Instant Dry Yeast 11g - Phoon Huat OR 1 packet of Saf-Instant Dry Baker's Yeast.
You may customise the filling as you desire. Some examples include using an equal amount (15g) of chocolate chips for each 80g portion of dough or maybe an equal amount of red bean paste instead.  Alternatively, you may omit the filling entirely and have the buns plain.