Hi there! Today I mBakinga Marie Helene's Apple Cake.
I came across this recipe while scrolling through the epicurious and Food52 websites. I was intrigued that this recipe was marked as a Genius recipe in Food52. This recipe also received 3.5 stars out of 4 from the readers of the epicurious website. As such, I was interested to know if it was really as fantastic as how others have described and rated. If you would like the backstory of how this recipe came to be, you may read the short synopsis here.
Experiences from trying Marie Helene's Apple Cake recipe
The author of the recipe, Dorie Greenspan, suggested to use a variety of apples. This gives the cake more character since it does not rely on any spices for additional character. Using a range of apples also provides the cake with some crisp, some soft, some tart and some sweet textures just from baking it in the cake. However, rest assured that even if you choose to use only one type of apple, the end result would still be delicious.
I made 3 ingredient swaps for this particular recipe. 
1) Instead of using (coarse or granulated) sugar as called for, I used half the amount of fine sugar by weight. Most recipes that call for sugar without specifying the type would normally use granulated or coarse sugar. I usually find that fine sugar or caster sugar would be an acceptable substitute. Just make sure to use half the amount or you would end up with a cake that would be too sweet.
2) I omitted the rum since I wanted an alcohol free cake.
3) The apples I used were Granny Smith's and Gala apples.
Overall thoughts about Marie Helene's Apple Cake
After making Marie Helene's Apple cake, I finally understood why it was a genius recipe on Food52.
I whisked the eggs by hand and got tired quickly. It was slightly foamy and there were visible bubbles. However, it was no where close to doubling in volume or turning a paler colour at all as most recipes would usually call for. I decided to just whisk it a bit more until my hand was tired since the apple cake recipe did not call for a paler egg mixture.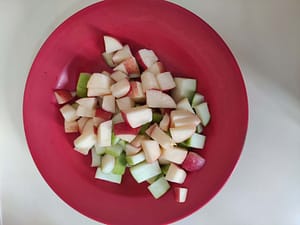 Also, I cut the apples into roughly 2cm chunks. They just needed to be bite sized without being too small. Amazingly, the apple cake still turned out fantastic.
This recipe hinges on the flavour of the apples you use. In fact, I would consider the only purpose of the cake batter here to provide the minimum amount of 'glue' to stick this amount of apples together.
If you would like to jazz it up, I would recommend adding some alcohol as suggested in the Dorie in her written recipe. Alternatively, you may consider adding a 1/4 tsp of your favourite spice to the mix.
I would rate Marie Helene's Apple Cake recipe as follows:
(1 being the poor, and 5 being the best)
This recipe is fantastic if you need to bake something quick for a last minute party. This simple recipe does not require any fancy equipment and can be prepared with a trusty whisk and a spatula or spoon. The natural flavours of the apple takes centre stage here and is a perfect accompaniment with some coffee or tea.
If you like what you're reading so far, why not follow me through the links below:
Or if you're feeling generous today and would love to support my blog, why not donate. All proceeds would go towards maintaining the website and covering the costs of any ingredients used.
Marie-Hélène's Apple Cake
The recipe below omits the alcohol that was in the original recipe.
Ingredients
1

egg

40

g

fine sugar

about 1/4 cup

1/4

tsp

vanilla essence

45

g

all purpose flour

1/3 cup

1/3

tsp

baking powder

2

medium

apples

cut into 2cm chunks

50

g

butter, melted

1/2 stick
Instructions
Preheat the oven to 180°C. Grease a 6 inch round pan well.

In a medium bowl, whisk the egg until foamy. Add the fine sugar and vanilla essence into the egg mixture and whisk for an additional 1 minute to blend it.

Whisk in half the flour and when it is incorporated, add half the melted butter, followed by the rest of the flour and the remaining butter, mixing gently after each addition so that you have a smooth, rather thick batter.

Switch to a spoon and fold in the chopped apples, turning the fruit so that it's coated with batter. Scrape the mix into the cake pan and transfer it into the preheated oven to bake for 25 to 30 mins. The cake is done baking when a toothpick inserted into the centre of the cake comes out clean.
Notes
If you would like to add some alcohol as suggested in the original recipe, you may add 1 1/2 tablespoon of it together with the vanilla essence for this amount of batter.