Hi there! Today I mBakinga Cupcake Jemma's Vanilla cupcake.
I was fascinated by how simple this vanilla cupcake recipe was. Jemma's recipe called for dumping in most of the ingredients into a mixing bowl and begin mixing. And before you know it, you would have ended up with some delicious cupcake batter. The recipe only called for common ingredients that would be commonly available during non-coronavirus times.
experiences from trying this vanilla cupcake recipe
Jemma has baked over a million cupcakes which is probably not surprising since her YouTube handle is CupcakeJemma. She has shared a Jemma's cupcake masterclass on how to get the perfect cupcake and I would recommend you to watch it if you would love some professional advice. 
I made some ingredient swaps for this particular recipe. 
1) Instead of using caster sugar, I used an equal amount (125g) of fine sugar. I find the granule sizes of these 2 sugars highly similar and would use them interchangeably.
2) I used 125g of all-purpose flour and 1 teaspoon of baking powder instead of 125g of self-raising flour.
3) I used salted butter instead of unsalted butter.
Having tried this recipe myself, I do have to agree with Jemma's advice about the mixing duration of the cupcake batter. I faced instances where my batter was not mixed long enough. There was too little batter to fill up 12 cupcake liners which was such a bummer! 2
On the other hand, overmixing the vanilla cupcake batter could be equally problematic. I have had my fair share of getting too carried away mixing cupcake batters and overworking them in the process. When uncooked, the look of the overmixed batter could easily pass off as being mixed just right. It would fill 12 cupcake liners perfectly. They would bake up beautifully in the oven. I was only able to tell something went wrong as the cupcake cools. An overmixed vanilla cupcake could start caving in the centre. This caving causes the cupcake texture to change from fluffy to gummy!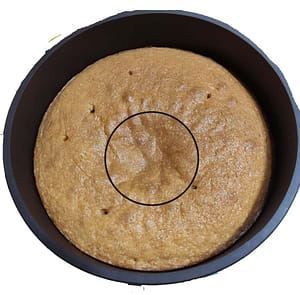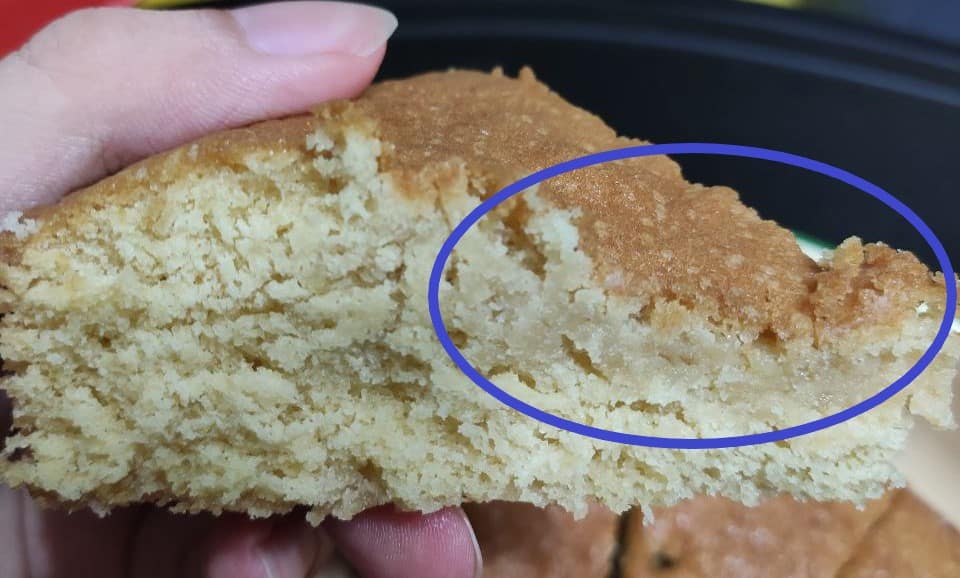 overall thoughts about jemma's vanilla cupcake
I love this vanilla cupcake recipe from Jemma and definitely think it is a keeper! Even with all the ingredient swaps I made above, Jemma's vanilla cupcakes still came out perfect.
It's simplicity is part of what makes Jemma's Vanilla cake recipe a winner. There are no complicated steps involved and can scaled very easily. In fact, I find that this portion for 12 cupcakes can easily bake 1 8-inch cake or 2 6-inch cakes if you are planning to make a layer cake. 
However, if you plan to scale up the recipe, I would recommend following a slightly different sequence of steps to make it. I find this dump and stir method more suitable for this amount of cake batter or less.
Ingredients wise, the recipe calls for things that are easily found in Singapore. I found the buttery taste prominent in this recipe. Hence, I strongly encourage you to use your favourite butter here as it's flavour could make or break this recipe. I used salted butter when I made the recipe and omitted the salt from the recipe list.
I would rate Cupcake Jemma's Vanilla Cupcake recipe as follows:
(1 being the poor, and 5 being the best)
Overall, this recipe is a keeper for sure!
If you like what you're reading so far, why not follow me through the links below:
Or if you're feeling generous today and would love to support my blog, why not donate. All proceeds would go towards maintaining the website and covering the costs of any ingredients used.
Cupcake Jemma's Vanilla Cupcakes (Adapted)
Delicious vanilla cupcakes that are so easy to make! This recipe incorporates the ingredient swaps that I mentioned in the post above.
Equipment
Electric mixer

12 hole cupcake tray
Ingredients
125

g

fine sugar

(1/2 cup)

125

g

all purpose flour

(1 cup)

1

tsp

baking powder

1/4

tsp

baking soda

125

g

salted butter, room temperature

(1 stick + 1 tbsp)

2

medium

eggs

1 1/2

tbsp

milk

1/4

tsp

vanilla essence
Instructions
Preheat the oven to 180°C and grease a 12 hole cupcake tray with some butter.

In a large mixing bowl, add the fine sugar, all purpose flour, baking powder and baking soda. Mix well to remove any visible lumps.

Add the salted butter and eggs into the dry ingredients. With an electric mixer, begin mixing on a low speed first to incorporate some of the dry ingredients, about 5 seconds. Increase the speed of the electric mixer to medium and mix for about 1 minute.

Turn the mixer down to a low speed and add in the milk and vanilla essence.

Turn the mixer up to a medium speed and mix for 30 seconds more.

Turn off the mixer and go in there with a spoon/ spatula to mix up any remaining spots that were not well incorporated.

Using 2 spoons, transfer the cupcake batter into the cupcake holes. Fill each cupcake liner to roughly 3/4 full.

Transfer the cupcake tray to the preheated oven and bake the cupcakes for 20 to 22 minutes or until a toothpick inserted into the centre of the cupcake comes out clean.